Employees are the company's most important asset. We appreciate employees for their contributions and dedication to the company. CHP strives to create a safe and friendly workplace environment for employees, including open and equal recruitment of talents, attention to human rights, regular health check-ups and medical consultations, prevention and management of maternal health hazard risks, etc. Particularly, we also provide foreign workers special assistance and service to help their adoption to the new culture and needs for health and other insurances.

Human rights equality
CHP supports and respects the principles and spirit of the International Labor Office Tripartite Declaration, the OECD Guidelines for multinational enterprises, the UN Universal Declaration of Human Rights, and the UN Global Compact principle, as well as the principles of relevant international initiatives. We follow the relevant local laws concerning labor and gender equality at the workplace, and formulate and implement measures regarding human rights protection and labor policies.

Health management
In addition to the basic implementation of the "Labor Health Protection Rules", medical examinations in compliance with regulations are implemented. In addition, the other health and safety promotion measures are planned, such as the deployment of full-time nursing staff in the factory area, AED teaching to strengthen the emergency response capabilities of employees, and the holding of various health-related lectures, etc.
Especially, for the protection of female employees' maternal health, we cooperate with the Ministry of Labor to implement the childcare leave pay, strengthen the maternity recuperation and family care leave benefits, etc. For female employees who return to work within one year after giving birth, work adjustments can be made as needed after health assessment and communication. We create a friendly working environment for female employees under the principle of balancing motherhood protection and equal employment rights.

Health promotion program
Content

Medical care

1. Medical boxes placed at each factorysite. An "External Defibrillator (AED)" is also provided.
2. Each factory is equipped with full-time nursing staff to provide medical care, health consultation, and emergency care.
3."AED" training courses for all shifts at each factory are available to strengthen the emergency response abilities of employees.

Health examination
and consultation

1. Biannual physical examination and follow up report for all employees are provided and mandatory.
2. In addition to the annual physical examination, the comprehensive physical check-ups are required every two years for executives and managers.
3. Health tracking and counseling service are provided.
4.Risk assessment for occupational disease is constantly conducted for preventive measurement.

Health Care Lecture
and Fitness Activity

Since 2016, we have co-hosted a Health and Fitness Competition periodically with YFY Group. A wide range lecture of health and sports are provided as follows:

1. Healthy diet and food safety lectures.
2.[Office exercise] Stress management and fitness.
3.Weight loss contest every six month.

It is our tradition to regard employees as family members by providing well-planned welfare and benefit for employees and their family.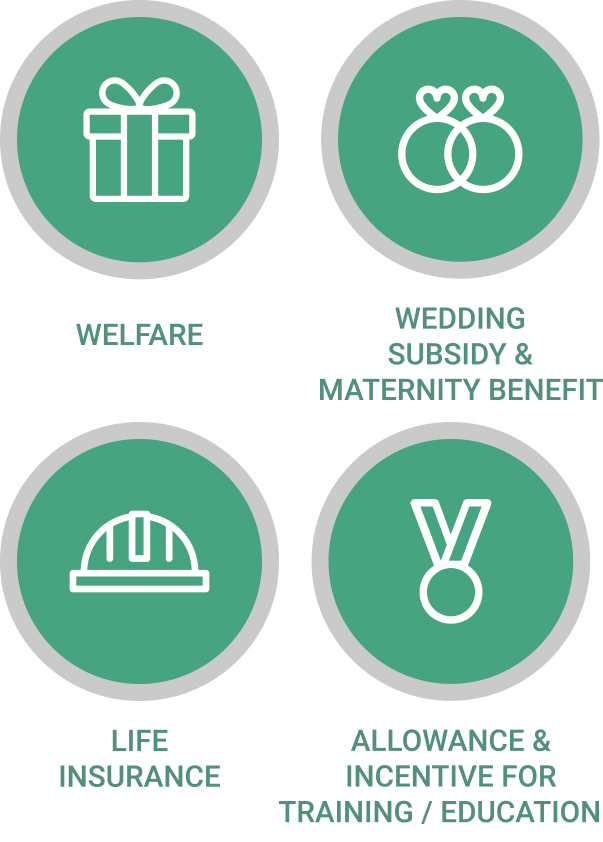 Care for foreign workers
At CHP, employees of different nationality are treated equally on welfare and benefit.
Foreign employees and workers recieve special assistance and new language learning and adaptation to the new culture and environment.